THE PCBR STORY -
(PROFESSIONAL CONTRACTORS BOARD REPAIR)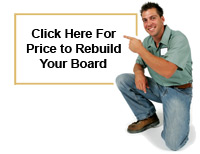 PCBR was founded in 1999 with the objective of supporting contractors with a facility that could rebuild "no longer available" appliance control boards. This service would perpetuate contractor's profit by permitting them to complete jobs, which had previously been lost due to non-availability of circuit boards. The PCBR library dates back to the 1980's for many models. PCBR is not a parts house, we do not stock parts for sale.
At PCBR, we repair your individual appliance control. PCBR will rebuild controls for ranges, stoves, microwave ovens, laundry, dishwashers, and refrigerators. Your control is upgraded using our history of past problems for that particular board, and we fix any potential problems before they occur. Our plant is authorized to rebuild for many manufacturers, including Whirlpool, Maytag, BSH, Kenmore, and others.
PCBR is a contractor company. Warranties are offered to contractors only. Why? For your safety! Appliances are typically 220 volts; some have capacitors that carry a big electrical charge of energy even when disconnected. If you are on this web site and not a contractor, we urge you to use a qualified technician to remove and reinstall appliance controls. In addition, it is sometimes very difficult to determine if the controller is the particular failed component. Other devices like a sensor temperature probe, or touch panel, power supply, or wire connection could show the same symptoms as a faulty controller, and they may be part of the problem.
PCBR has a success rate of 95% on all boards we have completed. We offer a six-month warranty to contractors. PCBR receives and completes hundreds of boards from across the USA each year; we enjoy a long list of satisfied customers. Read our PCBR Terms and Conditions and download a rebuild form
to begin the process.