Appliance Control Board Repair Process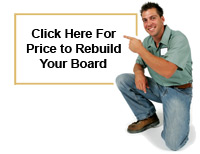 Once received, your control is logged into our data system and given individual bar coding for easy identification. This makes sure your own controller is returned to you. Once in the technical laboratory line, we cannot update you with verbal updates.
The controller is cleaned, re-soldered, and inspected for any obvious problems.
The board is then updated with known improvements, conversions, and/or future preventative repairs.
After the controller passes all tests, a work sheet is completed which will accompany your board back to you. This work sheet will help you determine if there are other possible problems with other components attached to the control board.
Finally, the controller is wrapped, worksheet attached, original paperwork included, and the unit is shipped in protective bubble wrap back to you. The entire process takes only 7 working days from the time we receive your board for most common board problems.
Your remanufactured controller is returned to you via UPS 3 day select.