WB27K5040 Electronic Range Control for Built In Appliances
As the most sought after control panel, we thought the WB27K5040 deserved a page of it's own. This control unit is used in built-in ovens, microwaves, stoves & other appliances manufactured by GE, Maytag, Whirlpool and other major manufacturers. Trying to replace a built-in appliance can be costly and time-consuming. You may have problems finding a new appliance that is an exact fit and custom carpentry may be required. You will probably find it is much more cost effective to repair your appliance control.
If your ERC panel has been giving you error codes you have probably looked around the internet and found out that this control panel is no longer available. Don't despair, don't throw out a perfectly good appliance, we can rebuild your ERC control panel for $158.50.
At PCBR we have remanufactured hundreds of control panels for many major brands of appliances. Our success rate is 95%, and we will return your control board within 7 to 10 days. Our work carries a warranty through contractors, AHS, FAHB.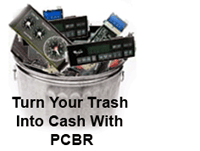 Why worry about having to buy a new oven, stove, or microwave just because your control panel has gone out? PCBR is a lifesaver!
Click here to check out our prices by part number.
Click here to read our terms & conditions & fill out a
repair request form.